asioso receives again 5 certifications for its employees, these are valid for one year. asioso is partner since 2017 and Gold Partner of Pimcore since 2018.
---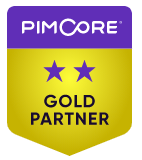 As a Gold Partner of Pimcore, asioso regularly has the certifications of its employees renewed. The main purpose of the certifications is to meet our quality standards and to give the employees the opportunity to prove their know-how. asioso acquired a total of 5 certifications, because the good training of the employees is an important point for asioso itself and for its customers. Due to the employees' years of experience with Pimcore and the annually renewed certificates, the quality is constantly increasing. This ensures that the employees always stay up to date with Pimcore and can apply changes directly. This allows projects to be processed and implemented in the best possible way.
"As employees, the certificates allow us to stay current and gain a better understanding of new features. This makes it easier for us to develop solutions for our clients. You can also look up the training videos if needed."
The advantages at a glance
The quality towards the clients shall be constantly ensured and improved as coding guidelines and latest standards are followed and developed. Due to the certifications, the employees have the possibility to train regularly and to expand their know-how. Especially for the more complex projects with Pimcore, it is necessary to always stay up to date. The Pimcore know-how ranges from CMS and DAM to e-commerce projects. The future development strategy of asioso focuses on the extended Pimcore Enterprise Subscription, as it gives a significant advantage to the customers. The Pimcore Enterprise Subscription is a commercial version of the Pimcore Platform™, including an enterprise-friendly license, Pimcore Enterprise Extensions, long-term and SLA support and LTS versions.
Certifications
As a Pimcore Developer, you gain a deeper insight into Pimcore and the system, expansion with bundles, administration, workflows, and implementation and hosting. The e-commerce framework is also part of this certification.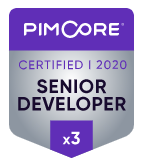 About Pimcore
Pimcore is an open source digital platform that delivers up-to-date, consistent and personalized experiences. The platform provides a centralized solution for PIM , MDM , DAM , CDP , DXP/CMS and eCommerce. Pimcore offers high flexibility and a single trusted view of all information to enhance the customer experience.